Marta Alonso
Lead Manager
Graduated in Commerce, with a master's degree in Digital Marketing and Graphic Design. She has experience linked to the HR consulting and quality of customer service in various fields. Positive, organized and constantly learning to face the challenge of today's business relationships through inbound marketing.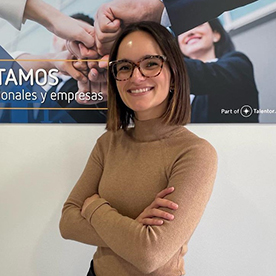 Education
Commercial Management
Digital Marketing
Graphic Design
Communication
Commercial Relations
She currently holds the position of Lead Manager in Servitalent, her main function is to design, manage and direct the company's operations to qualify business opportunities through digital marketing actions and direct market research.
Team Linkedin
https://www.linkedin.com/in/marta-alonso-107733110/
Talent wins games, but teamwork and intelligence win championships." - Michael Jordan