Javier Conde Torca
Managing Partner
"Specialization." For Javier, this word is the one that has success written all over it in the future (or rather in the present). 
Working by projects, knowing how to adapt to them, knowing how to combine them, unlearning, being specialized in one or two areas and contributing the maximum in them every day, is already fundamental to continue providing value. 
Javier has had the opportunity to work for different companies in different sectors (rehabilitation, R+D+i, services, finance, fintech, manufacturing, industrial, photovoltaic, logistics, energy, metallurgical...) and thanks to this he has a global vision that has made him join Servitalent as Associate Director.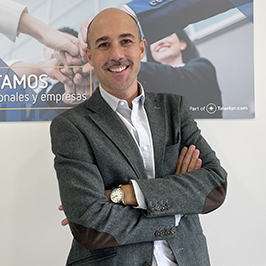 Education
Business planning
Financial planning
Sales and acquisition processes M&A
Multidisciplinary team building
Management
Company valuation
Motivation
Innovation
Audits
Javier brings different perspectives when analyzing solutions for clients, empathizing with them in a natural and simple way; he has extensive knowledge of different industries and sectors and carries digitalization in his day to day. He is also focused on making Servitalent in the northern area (mainly in the Basque Country) a reference company in the sector.
Team Linkedin
https://www.linkedin.com/in/hablamos